RECOLLECTED IMAGES: Football, San Eli Style

By Sam Sanchez, Sr.



Recently my oldest son invited me to San Elizario to see a football game. All my kids had graduated from Clint High School, but I was raised in and attended school in San Elizario. That night, Clint High school was playing San Elizario which some students considered to be the rivalry of the football season.

As the game progressed, my thoughts went back to the year 1950. As I stood on the sidelines watching the game, a series of recollected images, nostalgic in nature, went through my mind. It was 1950 when football as a competitive sport was introduced at San Eli. Played at the junior high level, seventh and eighth grade boys were asked to try out for the team.

The first day of school was always very exciting. The usual smell of new clothes and new leather shoes was in the air. Girls with pigtails and boys sporting home-made haircuts were evident throughout the school yard. The bell sent the students running to form lines outside the door of individual classrooms until the teachers were ready to wave them inside. Eager with anticipation, the students maneuvered for good seats in the classroom, all for different reasons. Some to be close to best friends, others to be as far away as possible from the teacher, hoping to be in his blind spot. My hopes were shattered when he moved his desk to the corner of the room and I found myself right smack in front of him.

For us boys, the excitement cam from knowing that our first football practice session was scheduled for that day after school. All prospective players were encouraged to attend.

The dressing room was under the stage of the auditorium-gymnasium. There on the concrete floor, in a big pile, were our uniforms obviously used and old and smelly, but exciting to see nevertheless. They had been there a long time. We came to realize that football had been played at San Elizario before, but none of us could remember when. I managed to get a pair of pants that were too big for me. I also got a jersey, a set of shoulder pads, and a helmet. Later, I had to relinquish my helmet to a bigger player, as there were not enough helmets to go around.

By two-thirty in the afternoon, we were making our way to the practice field, smelling like buffaloes even before working up a sweat. The lower grade kids were out on the field playing marbles. After chasing them off the field, we proceeded to clear it of debris and trash, making it playable. To the town folks, we must have been a sight, fifteen or so junior high kids dressed in oversized uniforms, leather helmets, picking up trash.

Lorenzo G. Alarcon, superintendent of the San Elizario schools, was also our coach. He had begun teaching there in 1922, at Los Portales, the old school building. His versatility as a school administrator surfaced early in his career. He substituted for absent teachers and coached all sports. In 1938, he had coached a San Elizario basketball team to an El Paso County championship, defeating Courchesne School before a capacity crowd at Ysleta High School.

It was a big event for the people of San Eli. Even in 1950, San Elizario had not changed much since 1850. There were two grocery stores, a post office housed in the El Molino building, and the church, the most impressive structure in town, projecting a special charm with its unique Spanish architecture and well-kept surroundings. Scattered around town were seven cantinas that had sprung up in the 1940s to serve the influx of braceros, documented Mexican alien workers contracted to help the farmers harvest the crops while their children attended school full-time, and while the older sons were off fighting a war.

We practiced without a coach though that first week. Mr. Alarcon was driving the school bus for the ailing bus driver. Our practices consisted of playing street football garbed in these old football uniforms. By Friday afternoon, a game had been scheduled with Clint Junior High. Mr. Merrick, our seventh grade teacher, assumed the coaching responsibilities and tried to initiate some form of discipline. We were assigned positions on offense and defense and ran through a few plays.

Things didn't look to good for us when the Clint players arrived. Among them were some high school students who had just graduated from San Eli two years before. Be that as it may, we were impressed with the way their uniforms fit. We saw how a football uniform was supposed to look on a player. They ran around the field a couple of times, formed a circle in the middle, and went into some ritualistic exercises that left quite an impression on us.

Richard Sambrano and Albert Gill, two upper class student at Clint, were the officials for that first game. They gave us some advice as the game progressed. One might even say that they were coaching us. The outcome of the game was not bad at all. We lost, but only by a small margin. The score was not really important—what was important was that we had played a good game, and the whole school had let out early to see it.

By the next game, we had learned the value of ritual-type exercises on the field. We were also sporting new jerseys and helmets which gave us tremendous confidence. It sure made a lot of difference to look like a football team with uniforms that were at least all the same color. We even had a group picture taken.

We also learned the advantage of using added padding inside our uniforms to minimize the pain from playing a contact sport. Across the street from the school was a cotton gin. Unknown to our coach and other school officials, we took cotton from the bales to stuff inside our uniform pants. Besides the added protection, it made us look heavier than we were.

We played Tornillo, Fabens, Socorro, Cooley, and Van Horn. We beat Clint the next time we played there. The funny thing about going somewhere to play was that Mr. Alarcon would never tell us where we were going to play. AS we rode along the bus, we would ask him where we were going. All he would say was, "You'll find out soon enough."

Our trip to Fort Hancock that year was the most memorable one of the entire football season. The school bus was old and Mr. Alarcon couldn't get it going that afternoon. We pushed it around the school building a couple of times and still the engine wouldn't start. Thinking that the game might have to be cancelled, we were surprised when Mr. Alarcon drove up in his car pulling an empty cotton trailer he had borrowed from the cotton gin. He told us to climb in and we made it to Fort Hancock, a little embarrassed, but in time to play the game.

During the game one of the players ripped his pants and cotton spilled all over the field. Mr. Alarcon and Mr. Merrick were not too amused by the fact that we were stuffing cotton inside our uniform pants.

Another amusing incident I remember from that game concerned one of our players. He had "traded" his worn out tennis shoes for a pair of new football shoes he found in the dressing room. On the bus on the way back, it tuned out the football shoes belonged to one of our own players. The boy had to give them up and walk home barefooted as he had left his old tennis shoes in Fort Hancock.

It was dark when we returned. We rode the trailer straight to the cotton gin and dropped it off. The mechanic was still working on the bus when we left the school grounds and headed home to our chores and supper.

Today, San Elizario is quite different from the town of the 1950s. There are no more cotton gins and fewer cantinas. Most of the farms have been turned into suburban additions called colonias. The post office is located in a government building and staffed by strangers. The school district has expanded to include two elementary schools, a middle school, and a high school. Nineteen school buses and numerous other vehicles to transport the students; no longer is it necessary to press cotton trailers into service to haul students to a football game.

To remember such events in one's life is to re-live the past as I did while my son and I watched a football game one Friday evening recently in San Elizario.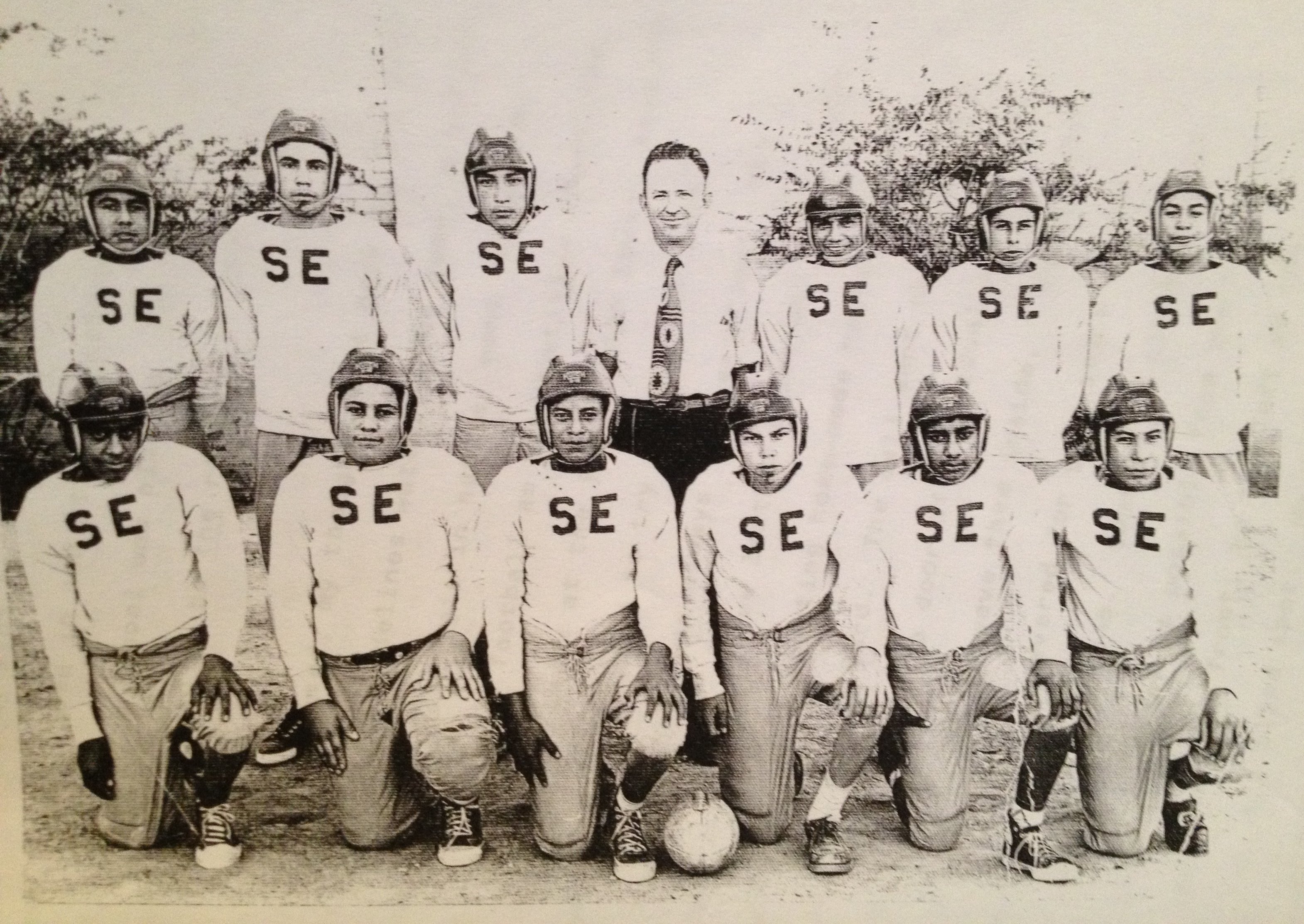 [Sam Sanchez, Kneeling 4th from Left]