Did My Eighth Grandfather Santiago Gurule Draw That Ship?

By George A. Sanchez



("The Threads of Memory" or "El Hilo de la Memoria" exhibit on loan from Spain opened to the public on January 23, 2011 at the Museum of History in El Paso, Texas. The exhibit with approximately 183 pieces of historical writings, maps, drawings, and pictures collected from the exploration of the New World from the early 1500s to approximately 1820 were sent to Spain where they have been at the Archivo de las Indias museum in Seville, Spain for the past five hundred years. The exhibit was first loaned to a museum in Santa Fe, New Mexico for three months, then to the El Paso Museum of History for three months, and from there it will go to New Orleans, Louisiana for the last three months here in the United States. This talk was given at the El Paso, Texas Exhibit by George A. Sanchez.)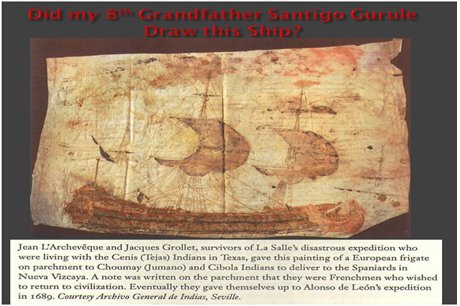 The first item in the exhibit I want to talk about is this drawing. My eighth grandfather Santiago Gurule (Jacques Grollet) or his friend Juan Archibeque (Jean L'Archeveque) might have drawn this picture. If so, they probably were drawing one of the three ships that the French Explorer La Salle, had when his ill -fated expedition landed in what is now Matagorda Bay in Texas in February of 1685.

I like to think of it as the "La Belle" drawing since it was the last remaining ship of the expedition that Jacques and Jean saw. This La Belle drawing was given to some Texas Indians by these two Frenchmen to give to Spanish soldiers in the area. They wrote on it their predicament and their wish to be rescued by them. Jacques must have written on the left side of the drawing since the writing on the right is clearly signed by Jean L'Archeveque.

A search party under the command of Alonso de Leon eventually found the two Frenchmen who were living among some friendly Indian tribes. Both Jacques and Jean were first taken to Mexico City where they were interviewed by the Viceroy of New Spain. Then in about 1689 the La Belle drawing and both Jacques and Jean as prisoners were sent to Spain.

In 1693 these two Frenchmen, my eighth grandfather Jacques Grollett, and Jean L' Archveque, had returned to the New World and with another Frenchman, who had also been rescued by Spanish soldiers, by the name of Pierre Meusnier, would be among the people of the Velasco-Farfan colonists in Diego De Vargas re-colonization of New Mexico. All three are listed as prisoners with these colonists. They would eventually marry and live among the New Mexico colonists leaving many progeny.

My eighth grandfather Jacques Grollett, son of Yves Grole and Marie Odon, was born in La Rochelle, France. As Santiago Gurule, he married Elena Gallegos, the daughter of Antonio Gallegos and Catarina Baca. They had a son Antonio Gurule. Santiago and Elena were farmer in what is now North Albuquerque, New Mexico.

Jean L' Archveque, was born in Bayonne, France, the son of Claude L' Archveque and Maria d'Armagac. As Juan Archibeque, he first married Antonia Gutierrez, the widow of Farfan colonist Tomas de Hita, and they had two children, Miguel and Maria Archibeque. Juan then married Manuela Roybal, daughter of Alcalde Mayor Ignacio de Roybal. Juan Archibeque was a presidial soldier in Santa Fe and was killed during the 1720 Villasur Expedition in what is now Kansas. Ironically, this expedition was organized to rid Spanish territory of French intruders.

Pierre Meusnier, as Pedro Munier, also became a soldier at the presidio of Santa Fe. He was the son of Louis Meusnier, Sieur de Preville, who at one time was reputed to have been the treasure for the king of France. Pedro married Lucia Madrid, daughter of Pedro Madrid and Yumar Barela from the Pueblo of San Antonio de Senacu and Real de San Lorenzo in Guadalupe de El Paso, present day Juarez, Mexico. To date no one has located any descendents of the Muniers.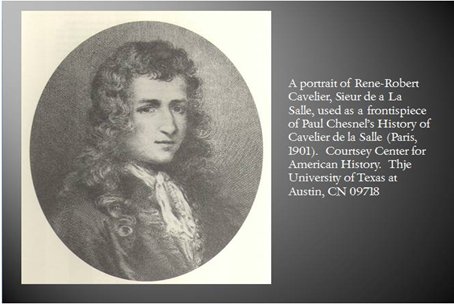 The Frenchman Robert Cavalier, Sieur de La Salle, who came from the wealthy Cavalier family of Rouen, France, first started exploring the fur trade in the Great Lakes region of New France, Canada, in the 1670s. There he would establish several forts or colonies which were not very successful due to his constant wonderings. But by 1683 La Salle had successfully explored down to the mouth of the Mississippi River in the Gulf of Mexico claiming all of this part of North America for France.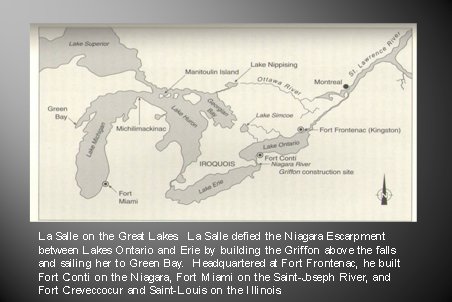 La Salle then went back to France where King Louis XIV, The Sun King, commissioned him to establish a French colony at the mouth of the Mississippi River. The expedition left La Rochelle, France for the New World in July of 1684. La Salle took some 250 sailors, women, and children in four ships to colonize in the New World. Among them was Jean L'Archeveque from Bayonne, France and my eight grandfather Jacques Grollet from La Rochelle.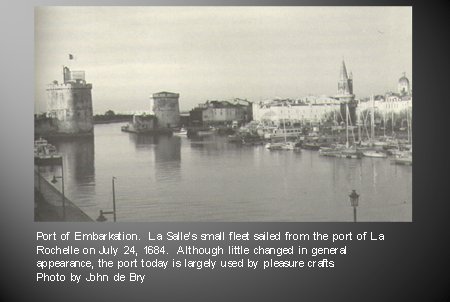 Second in command of the expedition was Henri Joutel. It is from Joutel's daily writings, found in William C. Foster's book The La Salle Expedition to Texas, and Robert S. Weddle's book The Wreck of the Belle, the Ruin of La Salle, that I got most of what I know about and a chronology for this ill-fated expedition which lasted for only five years, from 1684 to 1688.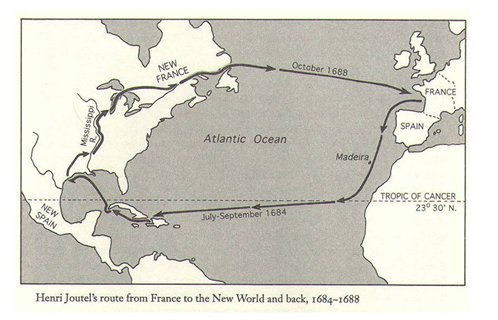 From the beginning the La Salle Expedition to place a French Colony at the mouth of the Mississippi River was a series of disasters. First, the ketch Saint Francois was captured by pirates near present day Haiti. Then the expedition missed the mouth of the Mississippi landing several hundred mile west in what is now Matagorda Bay in Southeast Texas in February of 1685. As planned the ship Joly returned to France after disembarking people and supplies outside the Matagorda Bay. But the vessel L'Aimable broke up on the sands when it tried to enter Matagorda Bay. They were able to salvage some of its cargo but the ship eventually sank. The lone remaining ship was the frigate La Belle which was also to sink a year later in 1686.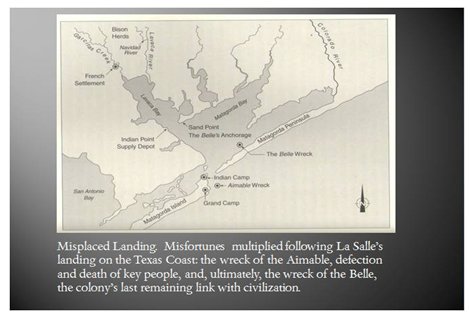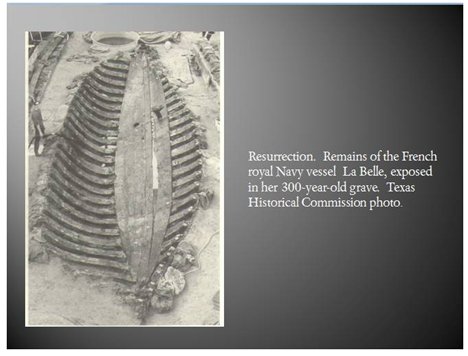 After establishing a small fort, Fort Saint Louis, about sixty miles north of where they had landed in Matagorda Bay, La Salle and some of his men went on a few trips to explore the country. Meanwhile those colonists left behind at the fort suffered and died from hunger and attacks from the costal-dwelling Karankawas. A few of the men with La Salle on these trips deserted and remained living with Indian Tribes in the area.

Finally, in 1687 La Salle, Joutel, and seventeen others left the struggling Fort Saint Louis colony marching towards the French settlements in Canada. From there they wanted to sail to France to obtain desperately needed help for the Fort Saint Louis settlement. La Salle was assinated by some of his men shortly after they started on this trek and only five of them would eventually reach France, Henri Joutel being among the lucky few.

La Salle was assassinated on the way back to New France to get help for the beleaguered Fort Saint Louis colony which never came. In the end only a handful of the original 250 French settlers survived. My eighth grandfather Jacques Grollett, Jean L' Archveque, Pierre Meusnier, and there might have been a few others who lived the rest of their lives among the Texas Indians. Three Talon children, who survived the complete massacre of the colony by the Karankawa Indians, were adopted by the Viceroy in Mexico City.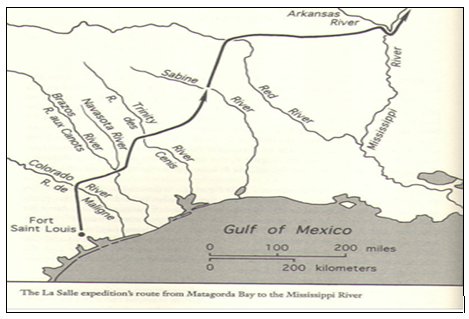 The "La Belle" drawing that Jacques Grolett, my eighth grandfather, and his fellow Frenchman Jean L'Archveque gave to the Texas Indians to take to the Spanish soldiers is controversial. For many years historians have referred to it as the "La Belle Drawing" because it was the last ship La Salle had at Fort Saint Louis which sank in Matagorda Bay and the last ship that Jacque and Jean had seen and might have drawn.

However, the drawing appears to be of a much larger ship. The La Belle was a small ship built to sail or use in the Mississippi. In fact, La Salle was going to transport it in pieces on one of his larger ships.

In my opinion, either Jacque or Jean or both found this drawing among La Salle's possessions after he was assinated or they found the drawing at Fort Saint Louis when they went there and found that the French Colony had been completely decimated by the Karankawa Indians.

The son of Santiago Gurule and Elena Gallegos, Antonio Gurule had had Indian servants called "criados". These were Native American Indians who were bought by Spanish colonists from various Indian Tribes and used as workers in their homes or farms. The term "genizaros" was also used for these people whose descendents eventually integrated into those colonists.

Rosa was a criada of Antonio Gurule and his wife Antonia Quintana. She was of American Indian descend who was probably bought from a Plains Indian tribe. She had several children while working for the Gurules, naming at least one son "Antonio", who would later give us genealogists confusing problems. An article written by myself and Angela Louis, the Godmother of the Gurule clan, can be found in the GuruleFamily.Org web site.

Besides descending from the Frenchman Jacques Grollet I also descend from this Rosa "Gurule" and many other present day Gurules also descend from Rosa or one of the other criadas.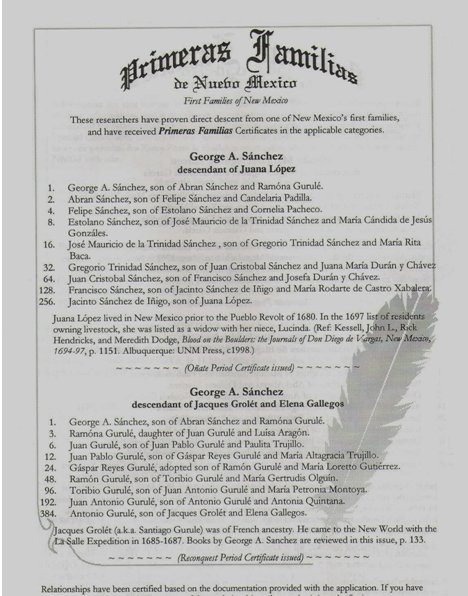 Finally, I want to mention the documents and paintings sent to Spain and part of the exhibit now here in El Paso that have to do with Spanish help to the American Colonies in obtaining their independence from England. How many people here know that two pesos were donated by Spanish soldiers in the Santa Fe presidio to help the American colonists in their fight for independence from England? Well, this was done and it is well documented. In Fact, the organizations Daughter of the American Revolution (DAR) and Sons of the American Revolution (SAR) now grant membership to anyone who can prove that they descend from one of those Spanish soldiers!

Henrietta Martinez Christmas a genealogist/historian from Northern New Mexico has written a book with a list of the Spanish soldiers who served in the Santa Fe Presidio from 1779-1783. Since she descends from one or more of those she has obtained her membership in Daughter of the American Revolution (DAR).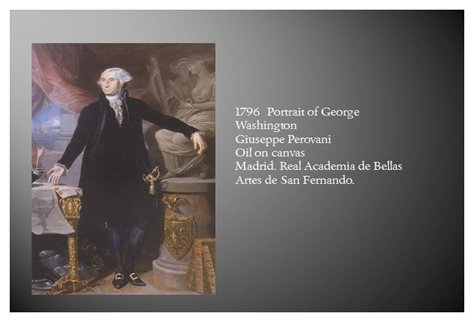 Thank you for listening to my talk. I invite you to see and enjoy all of the items in the exhibit before they are taken to New Orleans then back to Spain.

You can find the complete history of what I discussed in these sources:

(1) Jose Antonio Esquivel and John B. Colligan's The Spanish Recolonization of New Mexico
(2) William C. Foster's The La Salle Expedition to Texas: The Journal of Henri Joutel, 1684-1687
(3) Robert S. Weddle's The Wreck of the Belle, the Ruin of La Salle
(4) The Hispanic Genealogical Research Center of New Mexico's Great American database
(5) The New Mexico Genealogical Society
(6) GruleFamily.Org web site.
(7) The Santa Fe Presidio Soldiers~Their Donation to the American Revolution Compiled by Henrietta Martinez Christmas with an introduction by Jose Antonio Esquivel and published by the New Mexico Genealogical Society.

Contact me at GSanchez011@ELP.RR.COM or H (915)755-7135 or C (915)373-0127.